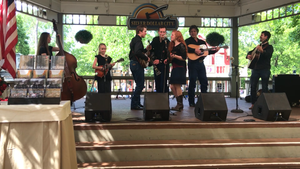 Jesse   
Guitar, vocals   
    Providing spiritual leadership, purpose and family vision.  Manages the day to day maple syrup farm operations, band bookings .   Has a heart for the Lord and is rarely seen without his children. 
Tracey  
Upright Bass   
     In one word "Sweet".   Tender and mild hearted Tracey is the teacher of  the children, the home keeper, accountant for all our entities and somehow finds time to keep up with our music schedule.  Dad is also quick to mention that she is the prettiest bass player in all of bluegrass!
 Austin
Lead/Harmony Vocals, Dobro,  
     Diligent, faithful and hardworking.  Whether he is learning new music or working on the farm this young man takes on full responsibility and does it heartily onto the Lord.  As he was as a infant still to this day it is hard to find him without a smile on his face.
Daltin   
Harmony Vocals, Banjo,Guitar,
     Determined, hardworking and funny funny funny!  Daltin is our mechanic around the farm as God has blessed him with the ability to figure out what makes things tick and how to make them run.  Not a day goes by without  Daltin initiating several side splitting, please make it stop, laughing bouts.
Priscilla  
Vocals, Fiddle, Mandolin, Bass  
     Not to be outdone by her older brothers, she is energetic, versatile, humorous and outgoing. She has a knack of filling in wherever needed. Whether tending to the needs of her younger siblings, helping with meals or even helping with daily maple syrup operations.  This is one special young lady!